Ready For An Modern But Affordable Telecommunications System?
Is your current phone system not keeping up with the demands of your business, or do you find your company missing calls, or worse yet sales due to lacking functionality or features? Does it seem like you are paying too much for an outdated phone system?  A new Voice over IP (VoIP) telephone system from Tech Wizards may be in order. With our new VoIP telephone and communications solutions, you can rest assured that your business needs will be met and far exceeded at a price that fits your budget.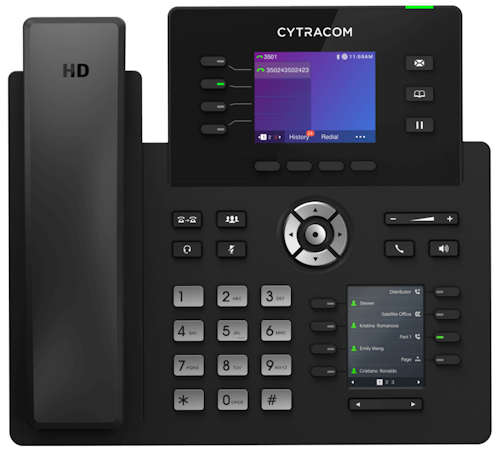 Let Tech Wizards' VoIP service provide the benefits every business needs today:
Features that you'll use – If you want to take a call on your laptop, or on your cell phone when you're on the go, or you'd like to access a phone number without any hassle, then Tech Wizards' VoIP services are definitely for you.
The ability to take on your company's workload – With optimized technology, your VoIP system will never go down because too many calls are being made, and the system can grow with your business.
Low-cost and easy to install – Installing and setting up a new VoIP system in your office is easier and more affordable than you might expect. Our trained staff will not only install your phones, provide all of the necessary training, and help to make the transition smooth and worry-free, but we will also facilitate (with your input) the setup of all the components and functionalities of your new VoIP system so you and your team can take maximum advantage of a fully featured, modern business communications system.
Locally Managed and maintained by Tech Wizards – Once your new VoIP phones are installed and your communications system is set up, Tech Wizards will continue to manage, maintain, and monitor your new system for optimum performance.  You don't need to learn how to manage your new phone system.  Any time you need to add or delete an extension, change a phone's user, record or change an announcement, or change your systems open/closed hours just submit a request to Tech Wizards and we'll handle everything for you.  Of course, you still have full control of your system, so we can also show you how to make quick changes to the system yourself if desired.
If you are a business in Raleigh, Durham, Chapel Hill, Cary, Apex, Morrisville, Wake Forest, Rolesville, Knightdale, Garner, Holly Springs, or Fuquay Varina and you're not happy with your current phone solution (or your current phone bill), have outgrown your existing system, or are looking for new features then call us today, and let us help you make the right choice.